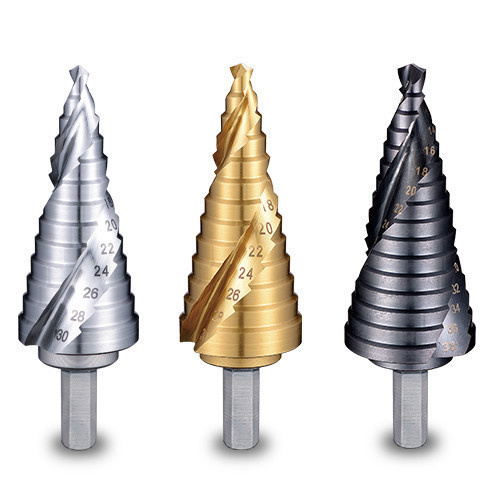 SDR Step Drill 6 Flat Shank
3keego SDR Step Drill 6 Flat Shank is made of M2 high-speed steel material. The CBN ground spiral fluted design of SDR step drills helps remove chips easily. SDR step drill 6 flat shank type is available with standard coating, TiN coating, and TiAlN coating.
Category: SDR Step Drills_6 Flat Shank
Features
6 Flat Shank Spiral Flute Design
Sharp and non-slip cutting edge starts cutting faster.

Laser-Etched diameter markings for easy identification of the number on the step drill

.

The 6-flat shank fits portable drilling machines or pillar drilling machines without slipping on the chuck.
What is a step drill used for?
Ideal for Thin Metal Sheet
CBN ground spiral flute design.

6-Flat shank with diameters of 8mm, 10mm, 13mm.

Tin coating provides higher durability and cutting performance.
Specifications
SDR Type 6 Flat Shank













Type



SDR 6 Flat Standard

SDR 6 Flat TiN

SDR 6 Flat TiAlN


Material type

M2 High Speed Steel (HSS)

M2 High Speed Steel (HSS)




M2 High Speed Steel (HSS)




Steps (mm)

4 - 45

4 - 45

4 - 45




Shank

(

Ø

mm)

8 mm

10 mm

13 mm

8 mm

10 mm

13 mm

8 mm

10 mm

13 mm

Shank type

3 Flat shank

3 Flat shank




3 Flat shank




Coating

Standard

TiN coated

TiAlN coated




Set

√




√




√




Applications

Steel

√




√




√




Stainless steel

-

-




-




Cast iron

√




√




√




Aluminum

√




√




√




Wood

√




√




√




Machine

Portable drilling machine

√




√




√




Pillar drilling machine

√




√




√




Magnetic drilling machine

-

-




-