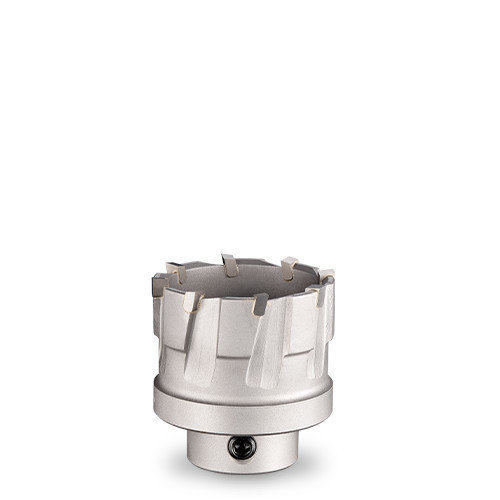 Hole Cutter HRM
3keego hole cutter HRM type has a universal exchangeable arbor and cutting flange to prevent over drilling. HRM type is made of tungsten carbide micro grade material. Manufactured with 25 mm, 50 mm cutting depth.
Category: HRM
Features
Cutting Flange, Spring, and Exchangeable Arbor
Exchangeable arbor, shank, and drill.

Dual hex screw for stronger hold.

Cutting flange prevents the hole cutter from over drilling.

The slug is ejected by spring when cutting is finished.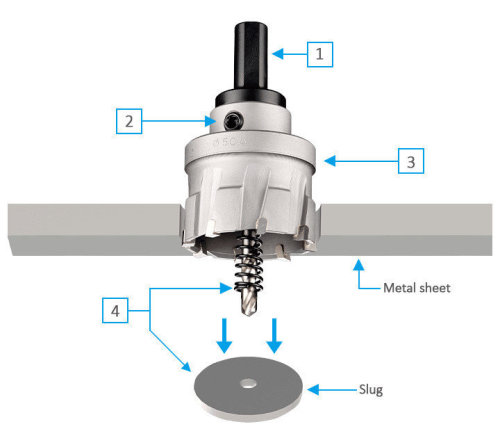 Ideal for Thick Metal Sheet
With a universal arbor that fits on different kinds of machines.

Comes with exchangeable shank and drill.

Ideal for thick metal sheet, pipes, I-Beam, and L-Bar.

Cutting depth: 25mm, 50mm thick.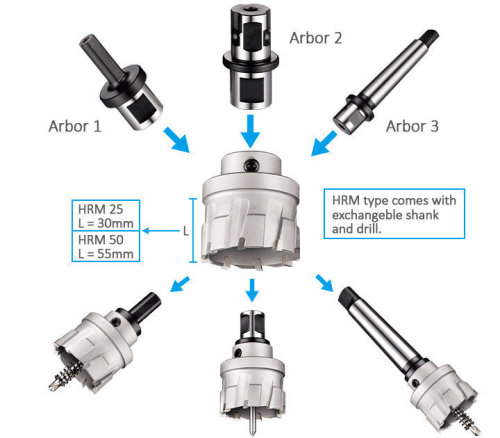 Specifications
HRP Type



HRM 25

HRM 50


Hole cutter




Tungsten Carbide Tipped (TCT)

Tungsten Carbide Tipped (TCT)




Cutting depth (mm)

25 mm

50 mm

Cutting length






Ø32 mm below


Ø

30 mm - Flange




Ø

53 mm - Flange




Ø33 mm below


Ø

38 mm - Thru




Ø

61 mm - Thru






Nominal diameter







Metric (mm)

Ø

14 mm ~

120 mm




Ø

12 mm ~

120 mm




Imperial ( " )


-

-

Shank

Universal shank

Universal shank




Arbor 1







Ø60 mm below


Ø

10 Hex




Ø

10 Hex




Ø61 mm above


Ø

13 Hex




Ø

13 Hex




Arbor 2







Ø100 mm below


2 Options

1. Weldon Ø19.05 mm

2. Fein Ø18 mm

2 Options

1. Weldon Ø19.05 mm

2. Fein Ø18 mm

Ø101 mm above


2 Options

1. Weldon Ø19.05 mm

2. Weldon Ø31.75 mm

2 Options

1. Weldon Ø19.05 mm

2. Weldon Ø31.75 mm

Arbor 3







Ø100 mm below


2 Options

1. MT2

2. MT3

2 Options

1. MT2

2. MT3

Ø101 mm above


2 Options

1. MT3

2. MT4

2 Options

1. MT3

2. MT4

Coating

Standard

Standard




Set

-

-




Applications

Steel

√




√




Stainless steel

√




√




Cast iron

√




√




Aluminum

-

-




Wood

-

-




Machine

Portable drilling machine

√




√




Pillar drilling machine

√




√




Magnetic drilling machine

√




√