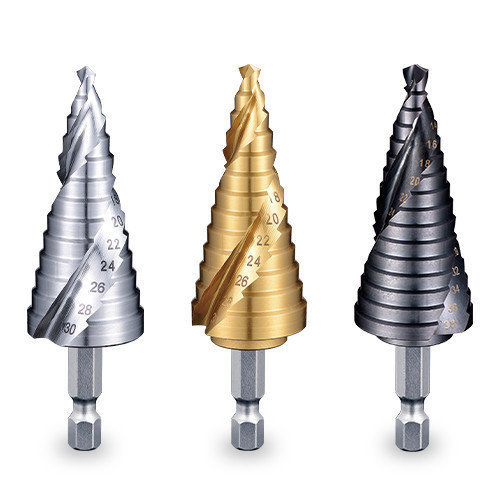 SDR Step Drill Hex Shank
3keego step drill hex shank is made of M2 high-speed steel material. The CBN ground spiral fluted design of SDR step drills helps remove chips easily. SDR step drill hex shank type is available with standard coating, TiN coating, and TiAlN coating.
Category: SDR Step Drills_Hex Shank
Features
Hex Shank Spiral Flute Design
Sharp and non-slip cutting edge starts cutting faster.

Laser-Etched diameter markings for easy identification of the number on the step drill

.

The hexagonal shank fits portable drilling machines or pillar drilling machines without slipping on the chuck.
What is a step drill used for?
Ideal for Thin Metal Sheet
CBN ground spiral flute design.

Hex shank with diameters of 7mm, 9mm.

Tin coating and Tia coating provide higher durability and cutting performance.
Specifications
SDR Type Hex Shank













Type



SDR Hex Standard

SDR Hex TiN

SDR Hex TiAlN


Material type

M2 High Speed Steel (HSS)

M2 High Speed Steel (HSS)




M2 High Speed Steel (HSS)




Steps (mm)

4 - 45

4 - 45

4 - 45




Shank

(

Ø

mm)

7

9

7

9

7

9

Shank type

Hex shank

Hex shank




Hex shank




Coating

Standard

TiN coated

TiAlN coated




Set

√




√




√




Applications

Steel

√




√




√




Stainless steel

-

-




-




Cast iron

√




√




√




Aluminum

√




√




√




Wood

√




√




√




Machine

Portable drilling machine

√




√




√




Pillar drilling machine

√




√




√




Magnetic drilling machine

-

-




-