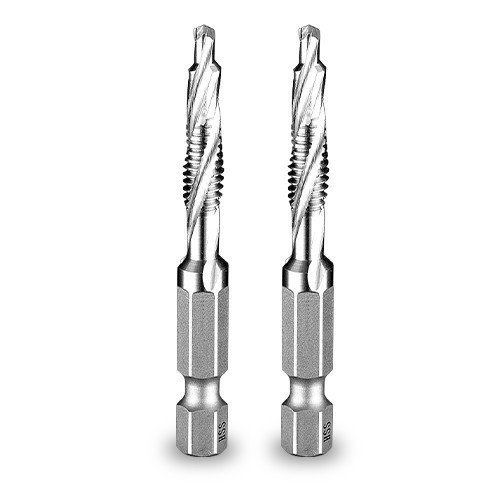 Spiral Flute Drill Tap
3keego drill tap spiral flute type is one of our newest products. It is made of hardened M2 High-Speed Steel material and it's a combination of drilling, tapping and countersinking. Have high quality to confirm a strong connection to drill chuck.
Category: Spiral Flute Drill Tap
Features


Spiral Flute and Sharp Cutting Edge
3 Fluted design with sharp cutting edges.

Designed with a 30

° angle for chamfering

.
Made of M2 high-speed steel.

Anti-skip drilling.

Higher durability.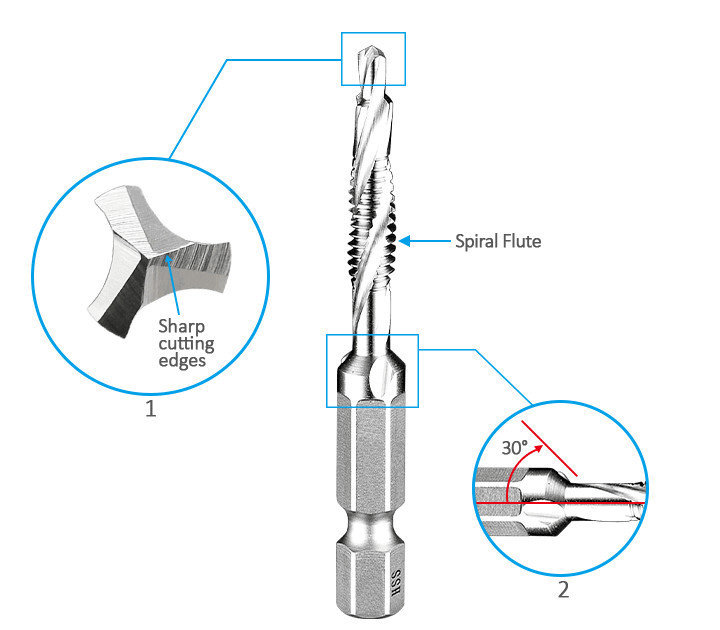 Drilling
,
Tapping and Chamfering

Combination of drilling, tapping, and chamfering.

For portable drilling machine and pillar drilling machine.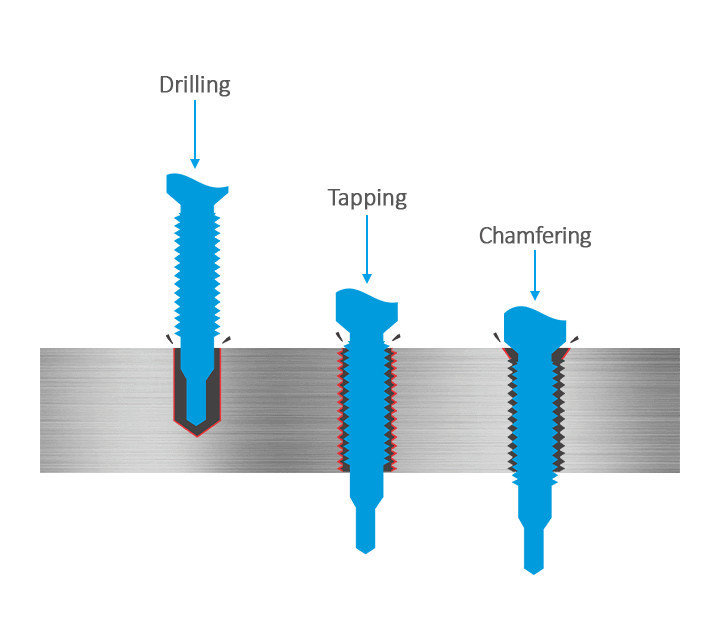 Specifications
Spiral Flute Drill Tap

Nominal diameter




Metric (mm)


M3 x 0.5 (Ø3mm)

M4 x 0.7 (Ø4mm)

M5 x 0.8 (Ø5mm)

M6 x 1.0 (Ø6mm)

M8 x 1.25 (Ø8mm)

M10 x 1.5 (Ø10mm)

M12 x 1.75 (Ø12mm)


Imperial ( " )


1/8" - 40 UNS (Ø3.2mm)

6 - 32 UNC (Ø3.5mm)

8 - 32 UNC (Ø4.2mm)

3/16" - 24 UNS (Ø4.8mm)

10 - 32 UNF (Ø4.8mm)

10 - 24 UNC (Ø4.8mm)

12 - 24 UNC (Ø5.5mm)

1/4" - 20 UNC (Ø6.4mm)

5/16" - 18 UNC (Ø7.9mm)

3/8" - 16 UNC (Ø9.5mm)

1/2" - 13 UNC (Ø12.7mm)

Flute type

Spiral flute




Shank type




1/4" Quick release




Coating




Standard




Applications

Steel

√


Stainless steel

-

Cast iron

√




Copper




√




Bronze

√




Fiberglass

√




L-bar

√




Square pipe




√




PVC pipe




-

Wood




√




Machine

Portable drilling machine

√




Pillar drilling machine

√



Easy-Understanding Drill Tap Chart
Easy-understanding Drill Tap Chart (Metric system)
| | | | |
| --- | --- | --- | --- |
| Drill Tap/ Screw Size | Major Diameter (X) | Pitch (Y) | Minor Diameter (X-Y) |
| M3x0.5 | 3.00 | 0.50 | 2.50 |
| M4x0.7 | 4.00 | 0.70 | 3.30 |
| M5x0.8 | 5.00 | 0.80 | 4.20 |
| M6x1.0 | 6.00 | 1.00 | 5.00 |
| M8x1.25 | 8.00 | 1.25 | 6.75 |
| M10x1.50 | 10.00 | 1.50 | 8.50 |
| M12x1.75 | 12.00 | 1.75 | 10.25 |
Easy-understanding Drill Tap Chart (Imperial system)
| | | | |
| --- | --- | --- | --- |
| Drill Tap/ Screw Size | Major Diameter (X) | Pitch (Y) | Minor Diameter (X-Y) |
| 6-32NC | 3.51 | 0.79 | 2.72 |
| 8-32NC | 4.17 | 0.79 | 3.38 |
| 10-32NF | 4.83 | 0.79 | 4.04 |
| 10-24NC | 4.83 | 1.06 | 3.77 |
| 12-24NC | 5.49 | 1.06 | 4.43 |
| 1/4-20NC | 6.35 | 1.27 | 5.08 |
| 5/16-18NC | 7.94 | 1.41 | 6.53 |
| 3/8-16NC | 9.53 | 1.59 | 7.94 |
| 1/2-13NC | 12.70 | 1.95 | 10.75 |